Elite Hair Loss Solutions in Sacramento, CA provides full-service hair loss prevention and hair restoration for men and women. Our superior-quality solutions include non-surgical hair restoration, beautiful customized wigs, fashionable no-damage hair extensions, and effective Trichological treatments for a healthy scalp. In fact, Elite Hair Loss Solutions offers more hair loss restoration and treatment options than any other company or club in the Sacramento area.
Our Focus is Private and Personal
Our caring Elite Hair Loss Solutions Professionals provide every Elite Guest with a private first-visit consultation FREE of charge. This evaluation visit ensures that everyone gets the opportunity to make a fully informed decision regarding the treatment or service they believe will deliver their desired results. Before making a recommendation, your dedicated Elite Hair Restoration Specialist will document the specifics of your hair loss and the expectations you set. This information is considered with extensive training in several uniquely beneficial solutions engineered to deliver proven results.
At Elite Hair Loss Solutions, You Can Expect:
The relentless pursuit of perfection
A FREE, no-obligation hair loss and scalp evaluation
Discreet, patient, and dignified confidential services
A team of highly trained and experienced hair loss specialists
Professional, one-on-one personal service
A private building with off-street parking
Totally private styling rooms for both men and women receiving all types of hair loss related services
A business and personal philosophy that takes your confidentiality and privacy very seriously
The security of dealing with a firm that's been in business and continually growing since 1999
We're a Different Kind of Hair Restoration Studio
There's a reason that hair restoration has gotten a bad rap. The big-box hair clubs make their money by creating their own "store brand" solutions that mimic real advancements in hair restoration and prevention technology. Then they only give you access to their branded options, even if there's a better solution on the market. Their quality control is handled internally, and they're driven by volume. It's easy to see who wins in that scenario. It's definitely not about you.
Our Team Is Accountable to You
You've seen how a big business works. The people at the top really get it, and the people below them understand less and less. At Elite Hair Loss Solutions, we're not driven by volume. Cutting corners isn't an option. We won't shuffle you around to a different technician or stylist every time you come into our studio. We are a smaller, synergistic team of genuinely elite hair restoration professionals, and we build our success by focusing on you. Limiting beliefs and shareholder value don't decide what works at Elite Hair Loss Solutions. You do.
Our Vision and Commitment
Since 1999, Elite Hair Loss Solutions in Sacramento, CA has been dedicated to providing our local and national clientele with access to the absolute highest quality of products and services possible. We made the commitment long ago to earn our business every day by providing discreet, complimentary no-pressure consultations, and by maintaining an impeccable reputation. The result has been our greatest compliment – a never-ending stream of Elite Guest referrals. In addition to the mission that has kept us successful for so many years, you can also expect unsurpassed cleanliness, a comfortable and pleasant professional environment, and 100% Guest satisfaction.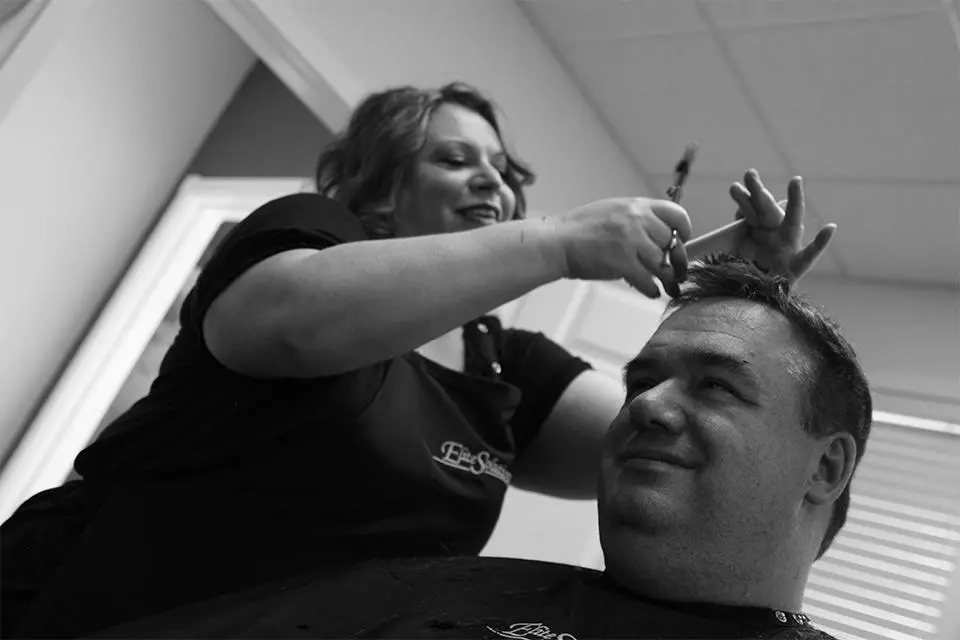 Elite Hair Loss Solutions' American Hair Loss Council Certified Master Stylist Deborah Long leads the Elite's team of trained professionals and offers only the finest hair restoration products and services available anywhere. She is the driving force behind Sacramento's most popular hair restoration clinic!
Step 1: Create the Best Hair Restoration Team in Sacramento
The first step in becoming the top male and female hair loss solutions facility in Sacramento was to field the best staff possible, and to train them in conjunction with world-renowned hair replacement specialists. Our team of Elite Professionals are personally trained by American Hair Loss Council Certified Master Stylist Deborah Long and have over 100 combined years of experience, working with the most up-to-date styles and technologies. They have been personally trained in the headquarters of the companies that create the most admired and respected hair restoratives in the world. Recent technological breakthroughs now enable our staff to offer a wide range of clinical and cosmetic hair loss solutions to our Guests, as well as state-of-the-art hair loss prevention services. Our staff is fully committed to our Elite Guests, and they receive intensive education on an ongoing basis.
Step 2: Establish an Independent Hair Studio
The second step in our development as a local market leader was to prove our commitment by selecting a first-class professional business facility. Many hair restoration businesses enjoy the benefits of mall-style retail spaces that give them the freedom to "go out of business" or move locations at any time. Not us! Those same low-commitment spaces rob people experiencing hair loss of their privacy. We believe that every Guest deserves total discretion and confidentiality, regardless of whether he or she is trying to prevent hair loss or restoring a full head of hair. Elite Hair Loss Solutions delivers privacy by providing private parking, private restrooms, and private styling rooms.
Step 3: Offer Unparalleled Access to Proven Solutions
In addition to the way corporate and chain hair restoration centers expose their Guests to a lack of secrecy, they also limit the array of options that can be used to benefit their Guests. Being an independent studio gives us free reign to scour the world for the most innovative, efficient, and effective developments in hair restoration science. When we find something that our Guests need, we go straight to the source. Often this includes personalized training and individual certification for each member of our team. By pursuing excellence in both our products and how they are applied, we have managed to build a world-class hair restoration studio from the ground up, right here in Sacramento.
Put Elite Hair Loss Solutions to Work for You
If you would like FREE information regarding hair loss prevention, hair replacement, or other beauty enhancement alternatives, or if you're ready to visit our Sacramento studio to explore your options, please contact us for your FREE consultation.